The Sundance® Spas Retail Advantage
An Exceptional Retailer Experience.
Sundance® Spas Is Committed To Your Success
Sundance® Spas dealers are the heart of the brand. When our retailers have the products, tools and support they need to be successful, everyone wins. That's why we've created the Sundance® Spas Retail Advantage program, which we believe is the best in the industry. Our team of experts provides the industry, business, sales, marketing, and service expertise that promote optimal growth for your business, all focused on the Sundance® Spas our customers call "exceptional."
Learn About the Sundance® Spas Retail Advantage Program
Take the next step in accelerating your growth and profitability.
By entering my email, I consent to receive electronic communications from Sundance® Spas. Your privacy is 100% guaranteed. Your information will not be shared.
A brick-and-mortar retail showroom in an open Sundance® Spas territory is required.
Dealer must be willing to display Sundance® Spas and Sundance® Spas branded point-of-purchase materials in retail showroom.
Dealer agrees with Sundance® Spas' internet policies and Sundance® Spas products must maintain a prominent position on dealer's website.
Dealer must commit to attend sales, technical service and management training.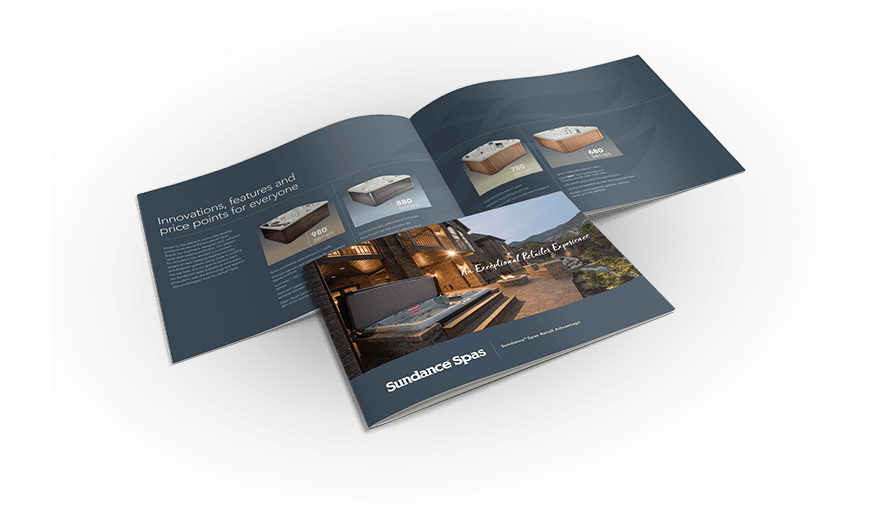 Download our free Sundance® Retail Advantage Guide Now
Experience the benefits of having a partner focused on continual innovation and the success of its retailer network.
Interested? Want to Learn More?
Start the conversation today to learn more about the Sundance® Spas Retail Advantage program and how it can accelerate your growth and profitability.